Pi Coin price is soaring in Huobi: What could go wrong?
Huobi, the global cryptocurrency exchange, made the controversial decision to list Pi Coin last week. Since then, PI/USDT price has surged from a low of $0.0096 to a high of $89. This rebound makes it one of the top-performing cryptocurrencies in the world. But there is a big problem about Huobi's Pi Network listing.
What is Pi Coin?
Pi Network is one of the biggest players in the blockchain in the world. It is a blockchain project that was started by two Stanford University alumni in 2018. Since its founding, it has thrived as the number of users have grown rapidly.
For example, Pi Network's Android app has over 50 million downloads while its Twitter account has over 2 million followers. Pi Browser has over 10 million users around the world. The network has over 35 million users globally.
The developers aim to create a cryptocurrency that will be mainstream as it solves the challenges that existing cryptocurrencies have. For example, instead of relying on complex mining hardware, anyone with a smartphone can mine their Pi coins using their smartphones.
Pi Network also aims to create a full ecosystem that will include games and other platforms that will be powered using the Pi coin. However, for now, it is impossible to transform Pi Coins into cash since the coin has not been listed in exchanges.
Pi Coin disowns Huobi's Pi/USDT
Huobi made the controversial decision to list the Pi/USDT pair, a financial derivative that aims to track the performance of Pi. In a press release, Pi said that it had disapproved the unauthorized decision to list its token without authorization. The company added that it had no affiliation or relationship with Huobi and other related exchanges and that Pi/USDT was not the real coin. The statement added that:
"Throughout this interim Enclosed Mainnet period, the Pi Mainnet is live, albeit with a firewall that prevents any unwanted external connectivity. The firewall ensures there is no connectivity between Pi and other blockchains or crypto exchanges without the explicit authorization of the network."
So, is Huobi's Pi Coin a good buy?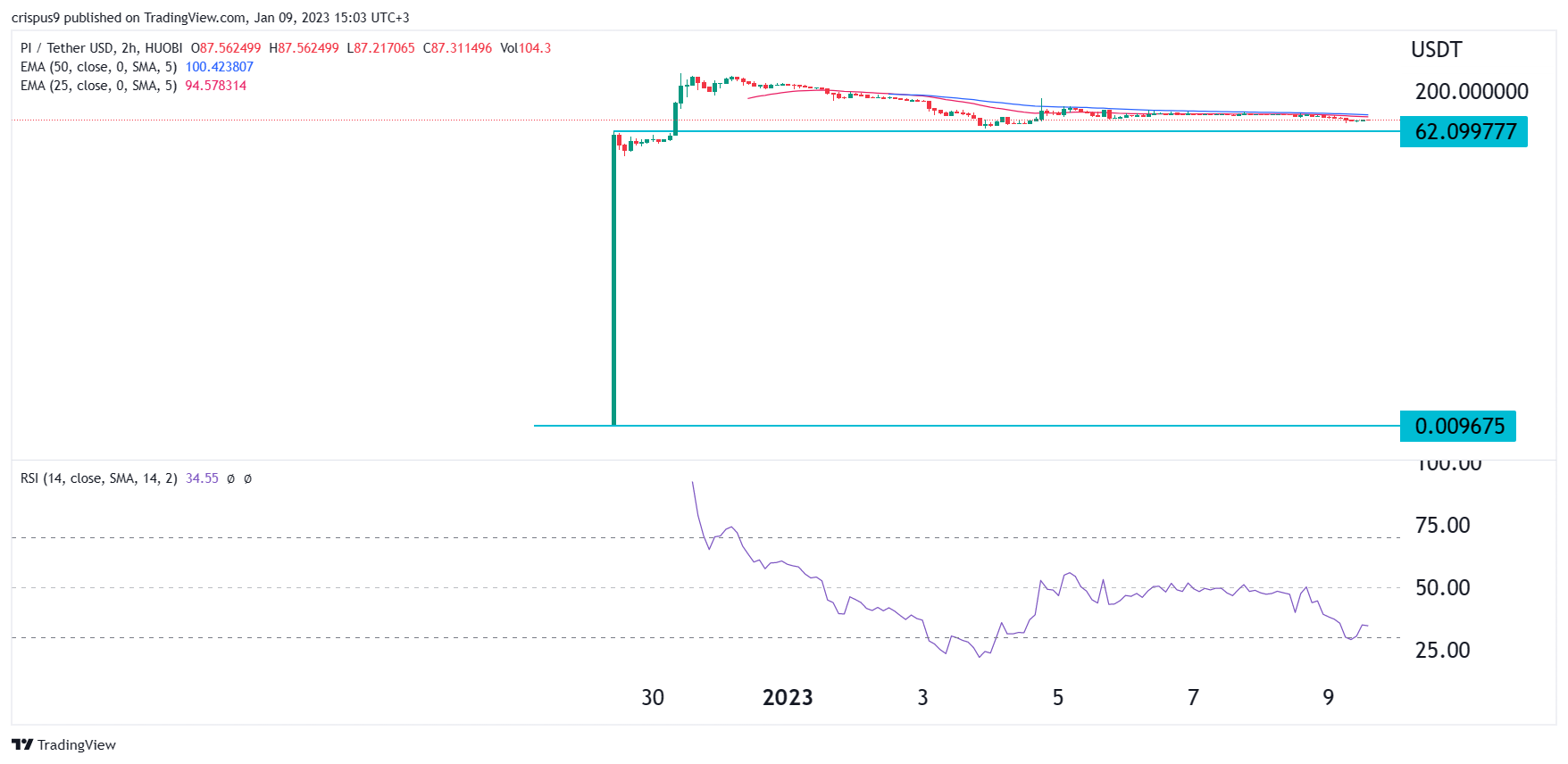 PIUSDT chart by TradingView
We believe that the Pi Coin listed by Huobi is not a genuine token to invest in or even trade. As we wrote in this article on Friday, we believe that Huobi is a significantly risky crypto exchange to invest in. If the developers can list a fake coin, what can't they do?